MIDLAND – With world championships in 1993, 1998 and 2012, plus three Brier titles and countless Grand Slam wins on his curling resumé, Victoria Harbour resident Wayne Middaugh has decided it's time to focus more on family life.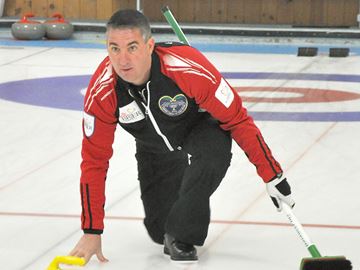 Mirror file photo
Wayne Middaugh announced he is stepping away from the elite curling scene to focus more on family life. He won't be putting away the broom for good, however, as he still intends to play charity events and in the Major Curling League in Penetanguishene.
Last weekend in Prince Edward Island, the 46-year-old Brampton native capped off his career, competing in the season-ending Players' Championship with his Penetanguishene Curling Club team of Glenn Howard, Brent Laing and Craig Savill.
It wasn't the ending the team would have liked, as they compiled a 1-4 record and missed the playoffs.
"It was a great feeling in P.E.I. to play there, and the response was great from not only the spectators, but the competitors, as well," said Middaugh. "They gave our team a great ovation, and it's great to know they appreciate how much we put into the game and how our competitors respect us as players."
Having decided he would be leaving the team some time ago, Middaugh said he wanted to keep things fun and enjoyable in P.E.I.
"I was going out and trying to enjoy everything the Players' Championship has to offer. We were spoiled the whole time there, including a big lobster dinner," he said.