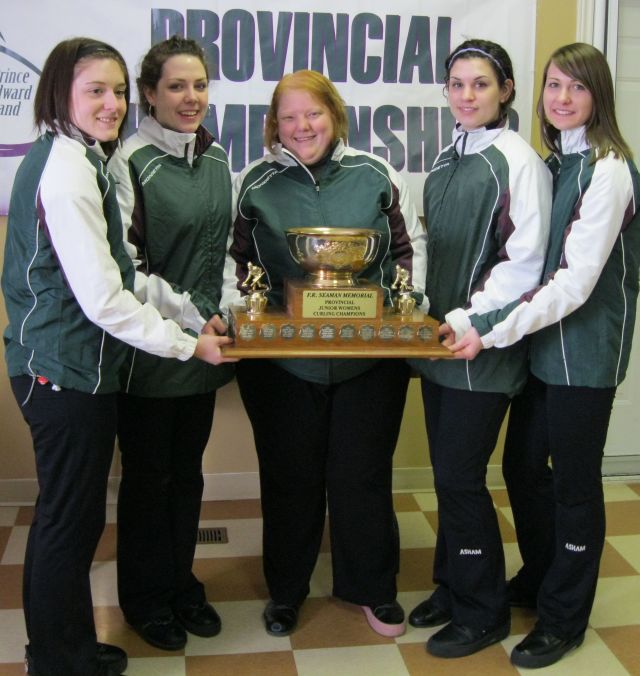 Photo (L-R) Whitney Young, Sara MacRae, Angela Hodgson (coach), Michelle McQuaid, Sarah Fullerton
Jan. 5- Cornwall's Sarah Fullerton rink had two chances to repeat as Pepsi Bottling Group junior women's curling champion on Wednesday at the Montague Curling Club, and did it on the first try, defeating their Cornwall clubmates, the Veronica Smith rink, by a 10-2 score. The defending champions led the entire way, stealing the first two ends, and responded to Smith's single-point third end by taking a triple in the fourth and stealing a single in the fourth for a 6-1 lead at the half. Smith took a single in six, but it was handshake time after Fullerton recorded four points in the seventh end.
Fullerton, with teammates Michelle McQuaid, Sara MacRae, and Whitney Young, and coach Angela Hodgson, won the A section of the triple knockout championship on Monday, and the C on Tuesday evening. Fullerton beat the Smith team 9-2 in the C final, stealing doubles in ends six and seven on the way to the win.
The runner-up Smith rink, which includes Sarah's sister Katie Fullerton at third, Sabrina Smith at second, and lead Chloe McCloskey, with coach Angela Hodgson, are last season's 15 and Under champions, and won the B section earlier on Tuesday, beating the Fullerton foursome in the B semi-final, and Montague's Carolyn Rose rink in the final, both by 10-7 scores. Smith would have had to win both Wednesday championship games to take the title.
The Fullerton team now advances to the M&M Meat Shops Canadian Championships, January 29-February 5 in Calgary Alberta, along with the Spencer Pitre rink from Charlottetown, who won the junior men's title Tuesday evening.