-Get Rockin'-


HOW MANY PLAYERS DO WE NEED?
Most games consist of two teams of 4 players but when playing for fun, you can have more or less on the ice if you want. Just let the Clubs know how many are coming.

---
LEARN TO CURL & PICK UP
TEAM NIGHTS
Some PEI Curling Clubs have "Learn To Curl" and "Pick Up Team" days/nights where you show up and are randomly placed on a team for the night — which is a great way to meet new people, play with a wide mix of other men and women, and you don't need to commit to a team at this time.


---
IS THERE A BETTER TIME
TO RENT?
Every Club is different but most facilities have available sheets Friday, Saturday or Sunday. Just pick a Club and connect to see what's available.
---
MORE WAYS TO SAVE & PLAY
Ask each Club about their Membership Rates — Save money, book consistent ice times, and join a traditional team for fun tournaments, Bonspiels and more!




DO YOU NEED TO JOIN A LEAGUE TO PLAY?
No — all PEI Clubs rent the ice to those just wanting to give the sport a try, and no Club on PEI is just for members!
---

WHAT TO WEAR?
Just wear comfortable, loose-fitting clothing and a pair of clean, flat, rubber-soled shoes — that's it! PEI Clubs do offer slip-on-sliders to go over your shoes, and they all provide the brooms and stones.

---
DO PEI CLUBS SERVE FOOD?
Not all Clubs have hot food service but all have snacks and beverages available. Best to ask each Club what they have for options when renting the ice.
---
OTHER WAYS TO PLAY
Can't get down in the hack? Don't have enough for two teams? Don't worry. There are modified games like Stick Curling and Mixed Doubles Curling for you to try. There is also Wheelchair Curling and Visually Impaired Curling.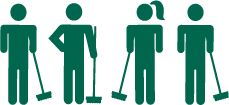 NEED AN INSTRUCTOR?


Ask each Curling Club about their options
to have an instructor join you!
MORE REASONS TO LOVE CURLING